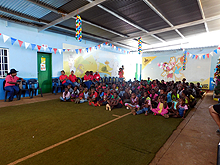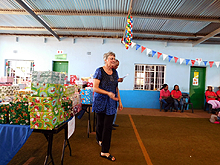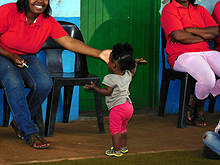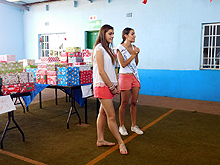 171 of 171 children sponsored
2020 was a challenging year for most people including our children. We looked at the content of the gifts and made some changes so everyone can still donate and our children still receive some necessary items. Below is a list of the items that we would like to have in the boxes. If you are able to sponsor a few of a specific item we would also be very grateful.
And outfit of clothing – girls a dress or top and bottom & Boys pants and shirt
Underwear
Stationary - depending on age, pen, pencil, ruler, eraser, sharpener and colour pencils or crayons
Sweets
Labels
In November I will send you a label with the name of the child(ren) you chose to sponsor. Please print and paste the label which you received onto the box. If you wish you can only stick the label part, the tick list will then be removed before the boxes are handed out. Please tick off all the items that are in the box.
If all the items on the tick list are not in the box please make sure to wrap the lid separately so that it can be lifted off. We will try to supplement the gift with other donations received. Use ribbon or an elastic band to secure the lid. Nothing will be removed from the boxes!
Please
Do NOT include perishable sweets or sweets that can melt
Do NOT include anything containing nuts
Do NOT include anything of a political, or racial nature
Thank you!